Michal Migurski's notebook, listening post, and soapbox. Subscribe to
this blog. Check out the rest of my site as well.
This just went out yesterday, our new Hurricane Tracker for MSNBC: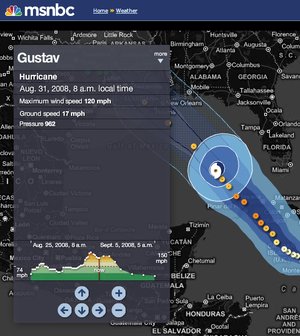 I'm so impressed with the work, co-created by Tom and Geraldine with raw data licensed from Hurricane Mapping. They're evacuating New Orleans right now, I hope the reaction to this storm isn't as tragically bungled as the last one.