Michal Migurski's notebook, listening post, and soapbox. Subscribe to
this blog. Check out the rest of my site as well.
Errors in software used to just happen to one computer at a time.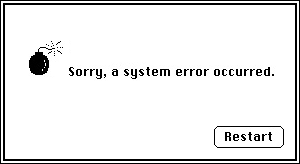 Web applications mean that errors happen to lots and lots of people, all at the same time, often when they'd really rather be getting something done. Spurred on by Flickr, developers and designers have taken to adding a bit of personality to their branded error pages:
See more at: Who Has The Best Sorry Page?
"Sorry pages" are like a category of folk art unto themselves. They defuse a possibly difficult situation ("I can't get to my photos!") with humor, and help communicate expectations without overly technical jargon.
Keeping your applications on the web also means that moving your data around between apps is complicated. OAuth has jumped into the fray with a new standard for 3rd party API authentication. It's an extraction of several examples currently in the wild, and is designed to allow users of a service to grant temporary permission to a 3rd party to access their private data. It needs to be safe and revokable, and keep data consumers from having to ask users for their passwords. I've been watching this effort from a short distance, and I can honestly say that I have no desire to see politics, sausage, or technical specs get made. Especially when crypto-nerds get involved.
Read the OAuth page for an explanation of what they're on about, and what they've created.
OAuth mostly succeeds, but there's one new-to-me addition to the spec that dangerously interferes with meaningful, attributable Sorry pages like the ones illustrated above. I've written before about the niceties of Google Authsub, specifically the way it opens the door to experimentation without a pre-existing relationship with Google. OAuth has introduced a step into its specified flow that I think is a bad idea: instead of just sending the user to a service provider's authentication page, it's first necessary for the Consumer (the ones that want to access a user's data) to perform a little behind-the-scenes sleight of hand with the Provider (the app where the user's data lives) in order to juggle some keys back and forth. If this step fails, it's up to the Consumer to figure out what went wrong and report to the User that something has gone wrong, instead of letting the Provider do so themselves via their usual language / design: upside-down birds, Admiral Ackbar, massages, etc. There's a world of difference between a printer telling you "Flickr's not working" and you seeing it for yourself, and getting the comforting "massage" response that also tells you what's going on, whether it's unexpected, and when you might get to play with your toys again.