Michal Migurski's notebook, listening post, and soapbox. Subscribe to
this blog. Check out the rest of my site as well.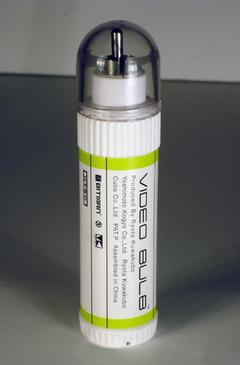 Indescribably cool.
This tiny device plugs directly into an RCA jack, and pumps out a constant stream of "bitman" dancing to any TV, VCR, whatever. I'm in love with the idea of video so compact it can fit in this form factor, and content that is completely static. I can imagine an adaptation of this concept, that contains some sort of environmental sensor (audio, temperature, whatever) and creates environmentally-appropriate graphics with no clunky storage or transmission medium.