Michal Migurski's notebook, listening post, and soapbox. Subscribe to
this blog. Check out the rest of my site as well.
I've installed an internally-geared hub on the Schwinn touring frame.
I had originally expected to get a Sturmey-Archer 5-speed, but numerous bike shops told me that they were seeing a high rate of returns on the Sturmey's, so I picked a Shimano instead. The rear dropout spacing on the Schwinn is just 126mm while the hub is 130mm across. It needs a bit of stretching to get the wheel in.
I used the equipment and help at the fabulous SF Bike Kitchen to get this made. It needed two trips, one to put together the basics and a second shorter trip to true it all into shape. Adam's help last year gave me the confidence to try this out, and Esther from Bike Kitchen staff helped me understand dish and tension.
I swapped in a pair of Velo Orange Montmartre handlebars to accommodate the shifter. They look a little nicer than the flipped-back bull horns I had previously, but the shifter itself is kind of a disaster.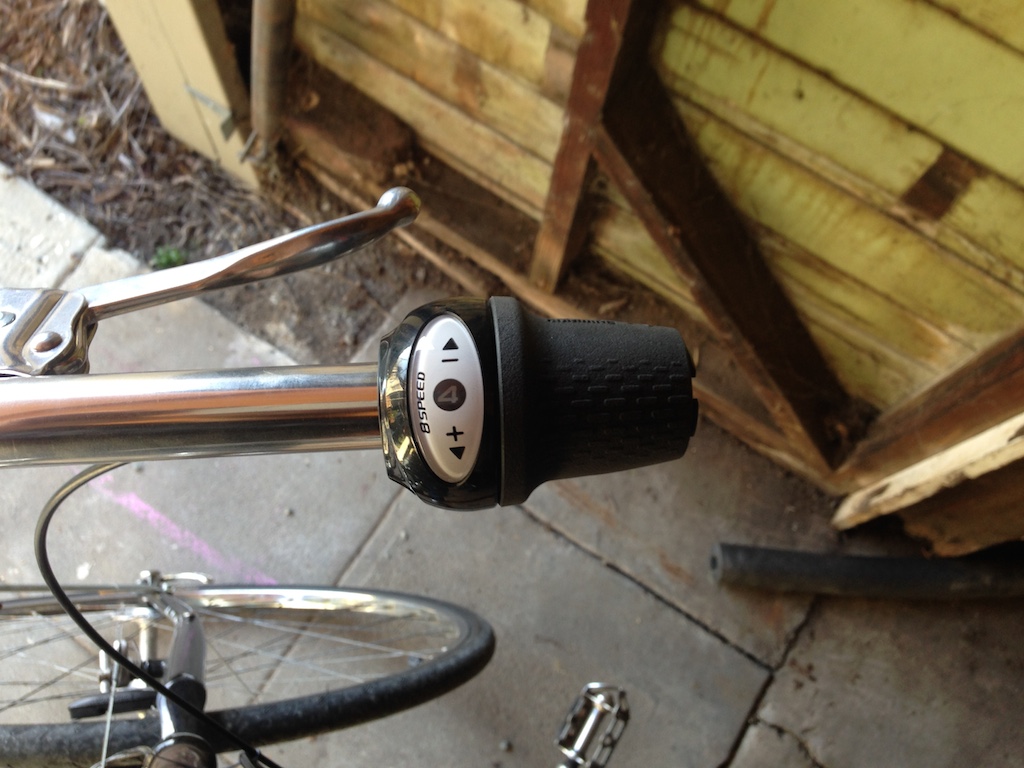 It's big and knobbly and really doesn't fit anywhere useful. I placed it on the right bar-end like Sheldon Brown's Raleigh International, but he's got his on a drop bar while mine's right under my wrist. I'm looking for alternatives here; most of the Shimano products for this purpose look like cheap stereo equipment. I did run into a guy on BART with an interesting stem-mounted Shimano shifter that looked to be made of milled steel, but apparently it's a pre-release prototype by Mission Bicycle, and the only one currently on the road. They sounded surprised when I called to ask them about.
The internal hub is a dream, and overall the bike continues to take shape slowly.
Update: Trying this variant with a bar-end extension: