Michal Migurski's notebook, listening post, and soapbox. Subscribe to
this blog. Check out the rest of my site as well.
Yum:
Working with log data from webservers, I wrote software that looked at the referrer data and created a site tree. This map of the site is interesting because it is formed by how the users travel through the site. It is the aggregate view of how the user base views the hierarchy of the website.
Simple straight lines between pages are not used. Instead all traffic moves clockwise around the map. A clockwise circular pattern is used because directionality can not be clearly labeled with straight lines.
Tomas and I swung by Adobe Books this afternoon. Artist Chris Cobb has rearranged every book on Adobe's shelf by color, for an unsettling faded-rainbow effect:
Especially cool is the shelf where the enormous white book collection abruptly moves through a few grays, and switches to black: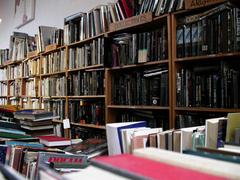 The floor is littered with tiny scraps of paper that seem to indicate which shelf each book was originally pulled from, to aid in next week's herculaean reorganizational effort when the show ends.